DEAUVILLE - TROUVILLE – 30 miles (50 minutes)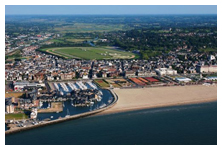 Deauville, lady of the French coast, its most glamorous seaside resort, symbolises elegance, prestige and sophistication. The city of the horse and the gateway to Calvados and sitting next door is her sister port of Trouville.
Trouville is one of the earliest seaside resorts when the 'new craze' for sea bathing took hold towards the end of the 19th century. Much of the architecture of the grand houses and hotels dates from this period. The town is now a lively and popular holiday destination, with an attractive large clean beach. In Trouville you will find some highly recommended restaurants, Le Central, Les Vapeurs and Les Voiles.
Website : www.deauville.org.
---
LISIEUX – 20 miles (25 minutes)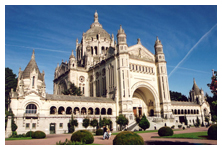 The town is best known as a very important pilgrimage centre (second only to Lourdes in France). The pilgrims who visit the town are devotees of Sainte Thérèse.
The cathedral (constructed after Ste Thérese was made a saint in 1925) has an attractively decorated interior, and is one of the largest churches constructed in the last 100 years.
If you are not visiting Lisieux as a devotee of Ste Thérèse you would be best visiting the town on a Saturday morning, to see and enjoy the market choc-a-bloc with local cheeses and ciders.
Website : http://www.francethisway.com/places/lisieux.php
---
ZOO DE CERZA – Lisieux 25 kilomètres (25 minutes)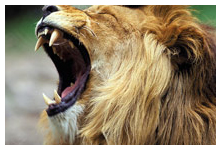 Great local zoo (and we are not usually fans) very close to Lisieux. This Zoo belongs to new generation of zoos where the animals are kept in conditions as close as possible to their natural habitat and look happy! As suprising as it sounds they look perfectly at home in the Normandy countryside. The zoo can be visited on a safari train and younger children will love the pets corner where they can cuddle a rabbit or a goat.
Départementale 143
14100 Hermival les Vaux Informations : 02 31 62 17 22 Réservations et Administration : 02 31 62 15 76 Site : www.cerza.com/
---
CHÂTEAUX DE VENDEUVRE – 15 miles (20 minutes)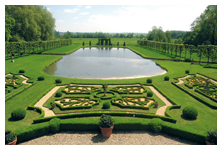 One of the most beautiful castles in Normandy. The house is still lived in by its original owners and is worth a visit. They have a miniature furniture museum with one of the finest collections in the world. The lifestyle in the 18th century in the chateau has been preserved its original decoration and furniture. There's an amazing collection of dog beds and kennels, you can visit the kitchens and it's secrets. And best of all the water gardens that are full of (wet) surprises ! !
Website : http://www.vendeuvre.com
Tel: 33 (0) 2 31 40 93 83
14170 Vendeuvre
---
JARDIN DU PAYS D'AUGE – 30 miles (40 minutes)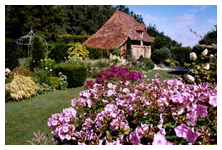 This garden is all about the slightly crazy plan of a couple called Armelle et Jacques Noppe who decided in 1994 to turn the 3 hectares surrounding their farm into an 'extraordinary garden' With the help of the landscape gardener Chantal Lejard, who designed the gardens in Meautry, they magnificently succeeded in puling off their fabulous scheme. You can go and visit the result and see the full range of delightful wooden timber framed cottages and buildings that have been saved from ruin in nearby fields and restored to their former glory around the gardens. And as you leave don't forget to taste their wonderful crepes...
Website : www.lesjardinsdupaysdauge.com
Tél : 33 (0) 2 31 63 01 81
14340 Cambremer
---
CHÂTEAU DE CREVECOEUR EN AUGE – 10 miles (20 minutes)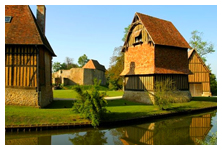 Musée de la famille As one of the most impressive examples of medieval architecture this small French castle Crèvecœur has been miraculously preserved, and has survived to this day, practically intact.
Offering medieval entertainment, eight days a year in August, some sixty enthusiasts bring the Crèvecœur estate back to life as it was back in the 15th century.
The castle also houses the Schlumberger family Museum. Born in Alsace, it was nevertheless in the Pays d'Auge that these genius inventors carried out their research which was to revolutionise mineral prospecting and the exploitation of oil deposits throughout the world.
Website: http://www.chateau-de-crevecoeur.com/
---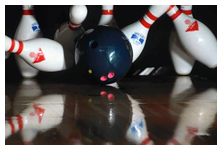 BOWLING
Bowling in Lisieux
14100 Lisieux - Tél. 02 31 62 19 30
Bowling in Deauville
Rue de la Vallée d'Auge - 14800 Touques
Tél. : 02 31 87 91 03
www.bowlingdedeauville.com
---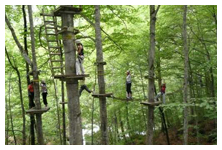 ACROBRANCHES LE VAL DES CIMES
The Acrobranches is an outdoor recreation in the forest which is to climb and move in the trees safely.
14130 Saint Gatien des Bois
Tél. 06 30 91 37 96 - Tél./Fax 02 31 65 49 96
Adventure (9 courses of different levels) available from 3 years.
---
A.C.S. KARTING
Kart racing in Lisieux
14100 Marolles - Tél. 02 31 63 83 92
---
CINEMA
Majestic et Royal Cinema
14100 Lisieux
In the center of Lisieux, 5 bathrooms, large screens, its DTH DTS